Maryland Birth Certificates Available at New Location
Prince George's County Health Department will begin offering a new service to the general public at its Medical and Vital Records Office, 425 Brightseat Rd., Landover. The issuance of birth certificates will be discontinued at the Motor Vehicle Administration located on Route 1 in Beltsville.
Cost: $10 per certificate
For persons born in Maryland after 1942.
For more information, call 301-324-2939.
---
Boys & Girls Club Receives Grant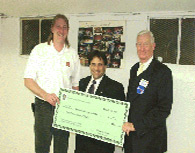 Mayor Michael Herman, formally president and founder of the Riverdale Boys & Girls Club (RBGC), and Tom Carpenter receive grant check from County Councilman Tom Hendershot for RBGC. The grant will be used for uniforms, equipment, and scholarships.