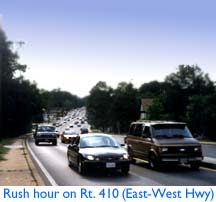 To achieve our vision of a town well-served by mass public transportation, easily accessible by private auto, and pedestrian friendly, we must focus on several issues. We must work with our neighboring communities to find a new east-west connector (an alternate to MD 410) as part of a regional traffic plan. Also, we must work with CSX (or its parent organization) and MARC to maintain and increase Riverdale Park's passenger commuter rail service. We will upgrade our public transportation links to METRORail and MARC and will obtain new METROBus shelters. We will consider constructing new town roads to provide better residential access. At the same time, we will construct bicycle and walking paths on public access routes throughout Riverdale Park, including along MD 410 and Kenilworth Avenue. Our goal is to have pleasant walkways that shelter our pedestrians from traffic.
Finally, the town will actively monitor and solve the following specific problems:
Traffic congestion in residential areas and on commuter through routes;
Traffic flow in Riverdale Plaza and on nearby access roads;
Vehicle access to the industrial park north of Town Center;
Commuter "cut-through" traffic in all wards, including school traffic;
On-street parking permits/signs/etc., in all wards;
Speeding problems in all wards; and
Safe passage for school children across MD 410.