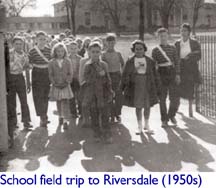 To meet the challenge of educating citizens for the next century, the residents of Riverdale Park must participate in developing new ideas for our schools. Local schools that enjoy community support are key to making Riverdale Park a place that will continue to attract a diverse population of young families. While we currently have excellent educational opportunities for the children of Riverdale Park in the form of private schools and home schooling, we envision our public schools, and Riverdale Elementary in particular, becoming a focal point for community action.
Our vision entails the Town of Riverdale Park acting as an educational advocate for the children of Riverdale Park and their parents, no matter what educational option they choose. We envision a return to community-based public schooling. When children attend local schools, it is far easier for parents to be involved with their children's education.
All our teachers will be state-certified, and classrooms will be places where children can concentrate on learning. Classrooms will be isolated from the noise of other classrooms. Temporary buildings will no longer sit on the Riverdale Elementary grounds. The Town of Riverdale Park will work with Riverdale Elementary School to encourage smaller class sizes. Finally, students and teachers will have adequate books and supplies.
The Town will encourage and empower parents in the education of their children. The return to community- based schooling will make it easier for busy parents to get involved with their children's schooling at the end of a long day. Since some parents might lack the skills needed to help their children with homework, the town will foster parental involvement by providing lists of available tutors, information on local magnet schools, and facilities where parents can learn English as a second language. The PTA will expand to become a focus for community involvement, sponsoring mentoring programs, partnerships with town organizations, and school-town events.
The Town of Riverdale Park will continue to provide information to parents who decide to educate their children outside of the traditional public school system. This includes collecting and making available information provided by private schools in the area describing their missions and educational goals. In addition, the town will assist residents who home-school their children by providing facilities for meetings, and making it easy for home-schooling parents to contact other home-schoolers. Providing other educational opportunities for children outside the classroom (scouting, sports, nature clubs, etc.) is something the town will continue to facilitate.