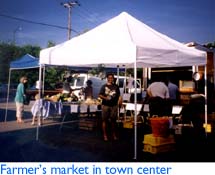 A thriving economy is a prerequisite for a sustainable town. Riverdale Park should be a community where the interconnectedness of jobs, goods, services, and profitable investments are clearly visible in the vibrant life of the community. The talk around the town should note how local business leaders are expanding their operations to better serve the local market. Sights and sounds of construction should be common as local landlords recognize the wisdom of rehabilitating properties, and investors clamor to make better use of previously developed land.
The rejuvenated commercial centers will be places where neighbors frequently meet while getting the items needed for daily life. In turn, new jobs will allow residents to escape the life of the unemployed,the underemployed, and the involuntary commuter. Riverdale Park will become a model of how older suburbs revive and prosper through cooperation between the private and public sectors.
The town must encourage existing businesses, aggressively recruit new enterprises, and work to improve the general economic climate. Both the town's public and private sectors must encourage responsible development and discourage practices that lead to urban decay and blight. In order to help achieve the vision for an economically vibrant town, the local government should review its laws and practices to find ways to improve the business climate. Some specific actions the Mayor and Council should consider are: 1) replacing the current property tax with a land value tax as allowed by state law; 2) providing incentives for new and relocating enterprises to open in Riverdale Park; and 3) reviewing current laws to weed out "nuisance" regulations that unjustly burden business and investment.
The town shall also take positive steps to help existing businesses and attract new ones. Possible steps could include:
maintaining a file of various resources available in the area for new and established businesses (i.e., information about small business development offices, and University business incubator programs);
developing marketing materials that emphasize advantages Riverdale has over other parts of the region;
continuing to cooperate with the Riverdale Business Association (RBA); and
encouraging the R.B.A. to include the businesses of eastern Riverdale Park, or assisting a separate organization for that area.
When marketing the town or planning development, the town government should place a high priority on attracting businesses that provide goods and services required daily by Riverdale Park's citizens. Basic retail and service establishments should be available within one-half mile of all town residents, and such businesses should be accessible by foot, mass-transit and automobile. The town will continue to seek input from residents on all business development issues.
The town should also recognize the need for diversity in economic activity as a protection against the normal fluctuations of business cycles. Encouraging tourism, by Riverdale Park alone and in league with other public and private entities, shall be town policy. Attracting government, non-profit and larger corporate offices are other alternatives that should be considered.