July 10, 1986 to July 12, 2002
Patrick Prangley, Town Administrator, presents Eulaine Jones a retirement award at the regular legislative session on July 1, 2002. The award was presented on behalf of the Riverdale Park Mayor and Council, Town staff, and citizens as an expression of their admiration, great respect and gratitude for Ms. Jones' loyal and personal dedication of public service to the Town for the past sixteen years. The Town wishes Ms. Jones continued health and happiness in her well deserved retirement.
From left to right, Councilmember (CM) Chris Davis, CM Wendall Davis, Mayor Michael Herman, Eulaine Jones, Town Administrator Patrick Prangley, CM Guy Tiberio, CM Rebecca Feldberg, and CM Matt Hart.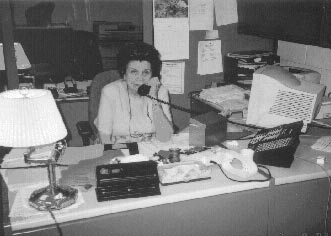 Eulaine Jones hard at work helping a resident on the phone.