By Jim Houser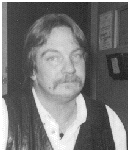 My name is James "Jim" Houser and I look forward to serving the Town of Riverdale Park in the capacity of Public Works Director.
I have 19 years of experience in the field of public works and in that time have nurtured relationships with many individuals at the state, county, and local levels. These relationships and the permits, licenses, and training I have obtained will help in my endeavor to retain or exceed the levels of service the Public
Works Department provides to residents. On a personal note, I live in Bowie with my wife, Carolyn, and our two youngest daughters, ages 5 and 3. Once again, thank you for this opportunity. Jim Houser is the town's Public Works Director.